You've probably heard by now that next week I'm having a HUGE photographer's giveaway on my
other blog
!
It's in celebration of my grandson Bennett turning ONE! It only happens once, so this is going to be my biggest contest this year.
It's been so fun and such a new experience for me having a grandchild...we have to celebrate:)
I have some amazing friends (and new acquaintance's) that have not hesitated to be a part of this.
I'm keeping most of them a surprise though....gotta keep you guessing right?
Of course I'll be giving some things away too, so I thought I'd give you a sneak peek of just one of the things I've been working on. I used to do all kinds of crafts before photography took over. I did card making, rubber stamping, scrapbooking, jewelery making, gardening, cooking, cleaning my house....well you get the idea.
I don't take nearly as much time to do all those things anymore, but I still have all the supplies.
So here's what I came up with today. I've made a few headbands already for using in my
photo sessions
, so I thought I'd make one for this giveaway too. Here's a preview, but I'm not giving away any of the other prizes....and trust me, they are way better than this!
The contest opens up next week on Monday Jan 17th in the morning. Keep an eye out!
Oh and how do you like the new blog look? I gave it a face lift yesterday.....I rather like it!
And I'm linking up to this really cute blog for Whatever you want Wednesday. It's the place where you can pick up cute vintage free clip art like the little blue bird I used up top in the left column right here on this blog!
Go have a look!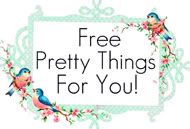 Thanks for stopping by......Sylvia
Share